VOTE FOR OUR WEB SITE ON EVIL TOOL'S TOP 100 HALLOWEEN SITES PAGE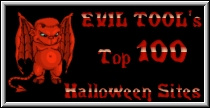 ***BEFORE YOU CAST YOUR VOTE ON WHAT SCARES YOU THE MOST, PLEASE READ THIS ARTICLE ON THE 1995 FORD CONTOUR OF DOOM, IT MAY SAVE YOUR LIFE***
***PLEASE CHECK THE NEWS PAGE FOR THE LATEST DoD2K2 ONLINE NEWS ITEMS AND MESSAGES FROM THE DUNGEON KEEPER***
Welcome to DoD 2K2! Get ready for an all new horrific experience in 2002 as you enter new dark corridors and experience more frightening monsters with new special effects! As you can see, we have completely rebuilt the DoD website with more features and much easier navigation. You will find links to the homepage and all child level links on the left hand side of your screen. At the bottom of the page you will find all of our top level links and a link to our home page.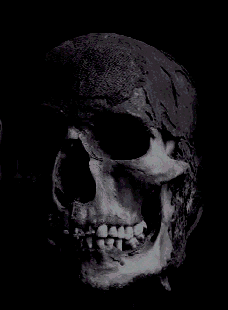 Click on the DoD 2K2 link on the left to view all information concerning the Dungeon of Doom in 2002. You can access information such as our hours of operation, DoD official rules, pricing, and "What's New in '02?".
Click on the News link to access all information posted about the Dungeon of Doom Haunted House, or DoD 2K2 online by local press.
Click on the Products link to view some of the products that we have for sale.
DON'T FORGET TO SIGN OUR GUESTBOOK LOCATED AT THE BOTTOM OF EVERY PAGE!!!

Planning on visiting the DoD soon?
Check the weather below to see current and future weather conditions.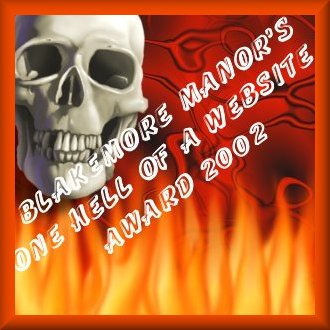 I would like to thank Courtney Evans at The Haunting at Blakemore Manor for awarding the "One Hell of a Website Award 2002" to DoD2K2 Online. It is a great honor to receive this award and it means a great deal to us to know that people enjoy our website. We will continue to work our hardest at providing our customers and our followers with the best services possible.
Thanks again Courtney and thanks to the Blakemore Manor Team. You guys really made a difference!
Please support Blakemore Manor by clicking on the award to view their website.

ARTICLE - 1995 FORD CONTOUR OF DOOM (SUBMITTED BY ANONYMOUS SOURCE)
Dear Dungeon Keeper,
I just wanted to tell you that your website and haunted house are awesome, they are scary too. However, the DoD just isn't scariest thing that I have ever experienced. Nope, the scariest moment in my life was when I had to take a ride in the 1995 FORD CONTOUR OF DOOM, dun dun dun. First of all, I'm not one to swear, but it smelled like butt in there, it was horrible. I could hardly breathe, and to make it worse, THERE WAS NO AIR CONDITIONING!!! It was hotter than hell in there! Also, unless you have a neck restraint on, you will be going home with whip lash because the transmission shifts harder than Cedar Point's Raptor coming to a stop. I did not feel safe in that Hell Machine at all. I mean, pieces were falling off of it left and right! I can't even begin to describe the sound it made, so here's a link to a sound file of what it sounded like: 1995 FORD CONTOUR OF DOOM. It was the scariest experience of my life! I honestly didn't think I would make it out alive!
So I urge, even beg, everyone who reads this, please vote for the 1995 Ford Contour With No A/C in the What Scares You The Most? opinion poll above, and NEVER, EVER get inside a 1995 Ford Contour of Doom. Parents, if you see one driving down the street, BRING YOUR KIDS INSIDE!!! You don't want them to be traumatized for life by such a horrid sight!
I thank you all for reading this article and I beg that you all heed my warning. I leave you with this little animation that I created of the 1995 Ford Contour of Doom:




Send mail to DoDungeonofDoom@aol.com with questions or comments about this web site.

Copyright © 2002 Dungeon of Doom Haunted House
Last modified: 10/20/02
You Are Victim #
Of DoD2K2

View My Guestbook
Sign My Guestbook

Haunted House Web Rings